Multimedia Recording - Production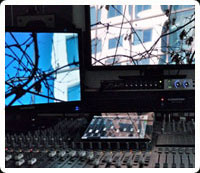 JL Recording Studios provides professional multimedia recording solutions for your company and personal multimedia productions. We offer a wide range of multimedia recording services to support your creative projects.
Our services include recording voice, adding background music and sound effects for Interactive Content, Flash, Final Cut Pro, Powerpoint, Director, and CD-ROM content.
We record Audio for Applications Including:
-Radio Ads
-TV Commercials
-Corporate and Training Videos
-Talking Audiobooks
-Cartoon & Games
-e-Learning Modules
-Custom Waiting Room Programs
-Regular and Enhanced Podcasts
-Automated Attendant Recordings
-Internet Ready Voice-Overs & Music
-IVR - On Hold Telephone Response Systems
-Voices & music for Kiosks & Displays
-Voices & music for In-Store Broadcasts, etc.