Podcast Recording & Production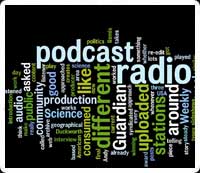 Podcasting is an invaluable medium to share content, and has become an effective way to grow your brand, service or business.
The best podcasts are professionally recorded and produced containing engaging content to connect with your listener. At JL Studios we understand the elements of a good podcast and along with our expertise are able to guide you through the process on how to start a podcast.
JL Studios can record and produce Standard MP3 Podcasts, as well as full featured Enhanced Podcasts for RSS2 and iTunes.
In addition to standard podcasts, which are just audio recordings, JL Studios can deliver "enhanced podcasts", which contain "chapters that reference your pictures, video or web links that are displayed within the iTunes song artwork viewer." You supply the images and let us handle the rest.